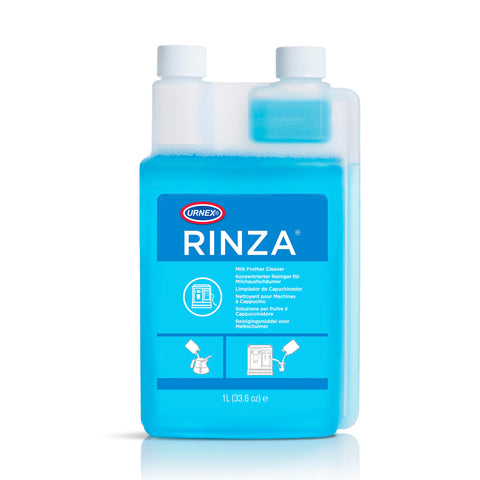 Urnex RINZA® Milk Line Wand Spout Frother Spout Cleaner Coffee Espresso Alkaline 1.1 Litres
Urnex Rinza Milk Frother Cleaner - 1.1L
A premium product designed for usage in a wide range of machines
With over four generations of experience, Urnex is the world leader in specialty cleaning products for coffee and espresso equipment
Rinza® Milk Frother Cleaner breaks down milk protein, fat and calcium build-up.
It cycles through auto-frothers for easy cleanup and cleans milk lines of auto-frothers, traditional steam wands and steel pitchers.
Built-in measuring device delivers over 30 uses per bottle
For extra clean use with Rinza Acid Formulation

This product has been designed to be used with equipment from the following brands:
Delonghi / Jura / Saeco / Breville / Gaggia / Bosch / Krups / Miele / Sunbeam / Rancilio / Nespresso / Lavazza / Caffitaly / Map / Rocket / Expressi / La Marzocco / Simonelli / Dalla Corte / Wega / La Cimbali / Faema / Elektra / ECM / Expobar / Brasilia / Astoria / Azkoyen / Grimac / Fiorenzato / Vibiemme / Diamond Italia / Futurmat / Magister / Diadema and many more




For use on Automatic Milk Frothers


To fill dosing chamber, loosen cap and squeeze bottle. Mix solution of 30 ml Rinza® Acid Formulation per 500 ml cold water.

Insert suction tube into solution.

Run entire solution through frother.

Repeat above with clean cold water to thoroughly rinse all components.

For use on Steam Wands and other Dairy-related Equipment
Soak parts or steam wand for 15-30 minutes in 30 ml Rinza® Acid Formulation per 500 ml warm water.

Rinse all components.
Recommended by someone who services espresso machines.
At a fraction of the cost of branded cleaning products from machine manufacturers like Capresso, works just as well on my machine. Very happy.
it's a cleaning product, so couldn't say love..It does however work very well. cappuccino machine works great due to this cleaning product. It cleans out the tube where the milk gets frothed for the cappuccino.
great value and works well with our Jura Impressa F7
Honestly a phenomenal product for the price