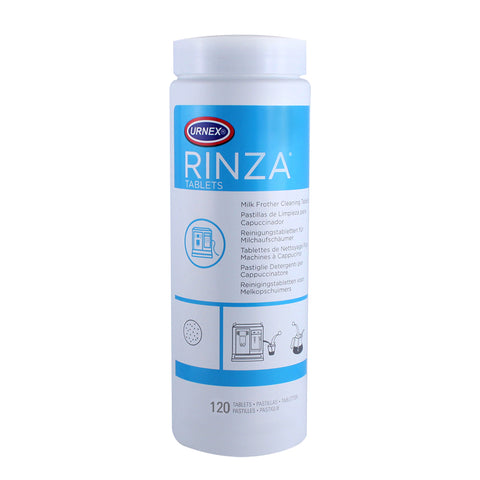 Urnex RINZA® Milk Line Frother Cleaning Tablets Coffee Espresso Machine - M61
1 x Urnex Rinza Milk System Cleaner M61 tablets - 4g - 20mm
A premium product designed for usage in a wide range of machines
With over four generations of experience, Urnex is the world leader in specialty cleaning products for coffee and espresso equipment
Rinza® Milk Frother Cleaning Tablets dissolve in warm water to easily remove milk residue and buildup in steam wands, valves and tubes
They contain cationic surfactant for additional cleaning confidence
Safe, easy, and efficient transport benefits compared with the liquid alternative

This product has been designed to be used with equipment from the following brands:
Delonghi / Jura / Saeco / Breville / Gaggia / Bosch / Krups / Miele / Sunbeam / Rancilio / Nespresso / Lavazza / Caffitaly / Map / Rocket / Expressi / La Marzocco / Simonelli / Dalla Corte / Wega / La Cimbali / Faema / Elektra / ECM / Expobar / Brasilia / Astoria / Azkoyen / Grimac / Fiorenzato / Vibiemme / Diamond Italia / Futurmat / Magister / Diadema and many more




For use on Automatic Milk Frothers


Create solution of one tablet per 250ml warm water

Insert suction tube into solution.

Run entire solution through frother.

Repeat above with clean cold water to thoroughly rinse all components.

For use on Steam Wands and other Dairy-related Equipment
Create solution by dissolving one tablet per 250ml warm water

Soak parts or steam wand for 15-30 minutes in 30 ml Rinza® Acid Formulation per 500 ml warm water.

Rinse all components.
Great for breaking down the milk residue on your espresso frothier.
does what it says it will do without any muss. I let the machine's frothing wand submerge into the product and within five or so minutes am able to wipe down the wand of any milk residue.
Cuts through milk residue like a champ
Used it on our automatic espresso machine's milk frother and it works beautifully!
It's works great and does its job