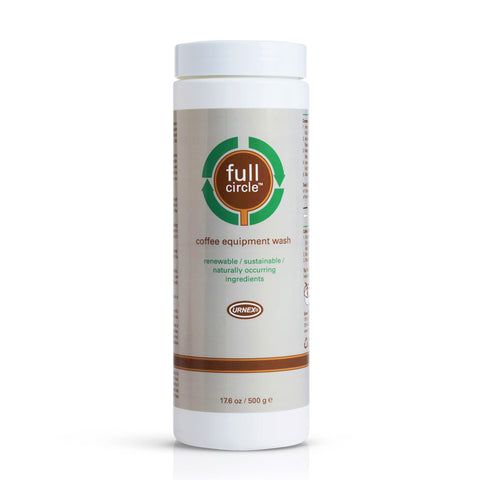 Urnex FULL CIRCLE ™ Espresso Coffee Equipment Wash Cleaner Recyclable Green - 500g (17.6 oz.)
Urnex Full Circle Coffee Equipment Wash - 500g
Renewable / Sustainable / Naturally Occurring Ingredients
The Full Circle™ Professional Range of coffee equipment cleaners is the result of years of innovation to create products that meet our highest standards for cleaning power while considering the world around us. The range contains specialized products to clean espresso, coffee and grinder machines. Biodegradable, phosphate free, odorless. We are doing our best to bring things "Full Circle".
A premium product designed for usage in a wide range of machines
Concentrated formula eliminates residue in group heads, valves, and lines
Effective for use on traditional espresso machines and coffee brewers
100% phosphate free, and all ingredients are renewable, sustainable and naturally occurring
Over 100 uses per jar
Bottle is 100% recyclable
Label printed digitally to reduce emissions
Sodium Bicarbonate: Also called baking soda, helps dough rise in cookies and bread. In our application, it assists in delivering oxygen bubbles to the surface of your coffee machine.
Sodium Carbonate: Often used in toothpaste and baking German pretzels, this naturally occurring salt is found in the hills of Wyoming and can be derived from seaweed. It is a great cleaning agent that changes the pH.
Sodium Gluconate: Used in dairy products and diet foods, this ingredient helps break down and rinse away soils. It is produced by fermentation of glucose (sugars).
Sodium Citrate: Derived from corn sugar via fermentation, this salt regulates acidity in the cleaning product. It can also be found on the ingredient list of some of your favorite energy drinks.
Sodium Percarbonate: This is a key ingredient used in toothpaste for its oxygen based bleaching abilities.
Sodium Coco-Sulfate: As the name suggests, a terrific foaming agent and surfactant produced from coconut oils.
Alkyl Polyglycosides: The scariest sounding ingredient is produced from the combination of alcohols and glucose. These sugars are derived from coconut, palm, and corn oil. This is a 100% renewable surfactant that would otherwise need to be produced from petroleum products.
While we have told you the details of our ingredients, it's important to remember that this product is not food.

This product has been designed to be used with equipment from the following brands:
Delonghi / Jura / Saeco / Breville / Gaggia / Bosch / Krups / Miele / Sunbeam / Rancilio / Nespresso / Lavazza / Caffitaly / Map / Rocket / Expressi / La Marzocco / Simonelli / Dalla Corte / Wega / La Cimbali / Faema / Elektra / ECM / Expobar / Brasilia / Astoria / Azkoyen / Grimac / Fiorenzato / Vibiemme / Diamond Italia / Futurmat / Magister / Diadema and many more





For Use on Commercial Espresso Machines


Back Flush (each group head)
Insert blind filter and add up to 1/2 teaspoon (3 g) of Full Circle™ Wash. Insert porta-filter into group head.
Activate brew cycle for 10 seconds. Stop 10 seconds. Repeat 5 times.
Remove porta-filter. Activate brew cycle and rinse porta-filter in stream of water from group head. Stop cycle.
Insert blind filter. Insert porta-filter into group head. Repeat step (2) without Full Circle™ Wash to rinse.
Make and discard a shot of espresso.
Soak: Soak filters and metal portion of porta-filter (do not submerge plastic handle) for 30 minutes in 1 teaspoon (6 g) of Full Circle™ powder per 32 oz. (1 L) of hot water. Rinse with potable water.
For Use on Coffee Brewers


Empty coffee from equipment and sprinkle 1/2 teaspoon (3 g) of Full Circle™ Wash per 64 oz. (2 L) of brewer capacity directly into brew basket.
Run a full brew cycle into each vessel. Hold for 30 minutes.
Rinse with clean hot water.
Tip: Wet cloth with a Full Circle™ Wash solution and wipe spray heads, then wipe clean with water. Caution: Spray heads may be very hot.