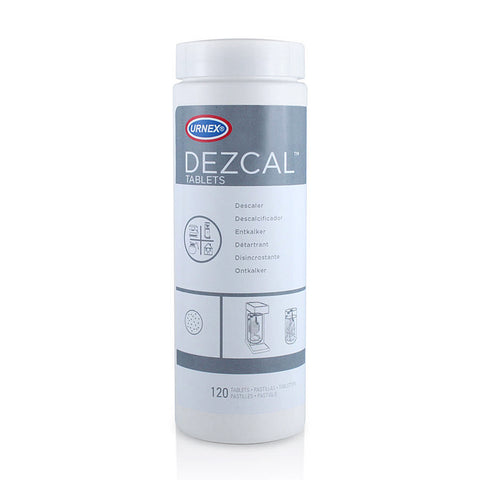 Urnex DEZCAL Espresso Coffee Machine Descaler Decalcifier Descaling Tablets
Urnex Dezcal descaling tablets
A premium product designed for usage in a wide range of machines
For fast and effective descaling of boilers and heating elements including faucets, spray heads and milk systems

Please note this product should not be used on any exterior surfaces of machines.

Removes mineral deposit which clogs and impairs brewing equipment
Tablet form for easy and controlled dosing
Dezcal™ is also available in in powder and liquid form

This product has been designed to be used with equipment from the following brands:
Delonghi / Jura / Saeco / Breville / Gaggia / Bosch / Krups / Miele / Sunbeam / Rancilio / Nespresso / Lavazza / Caffitaly / Map / Rocket / Expressi / La Marzocco / Simonelli / Dalla Corte / Wega / La Cimbali / Faema / Elektra / ECM / Expobar / Brasilia / Astoria / Azkoyen / Grimac / Fiorenzato / Vibiemme / Diamond Italia / Futurmat / Magister / Diadema and many more




For use on Commercial Boilers and Heating Elements of Coffee and Espresso Equipment


Create solution with 1 Dezcal™ tablet for every 250 mL of water needed. Tablets dissolve best in warm water.

Hold solution in vessel for up to 30 minutes.

Rinse all parts thoroughly.

TIP: Dezcal™ tablets are suitable for use by both professional technicians and home users alike. When used on commercial and "closed system" brewers (with a holding tank), special attention should be paid to rinsing.