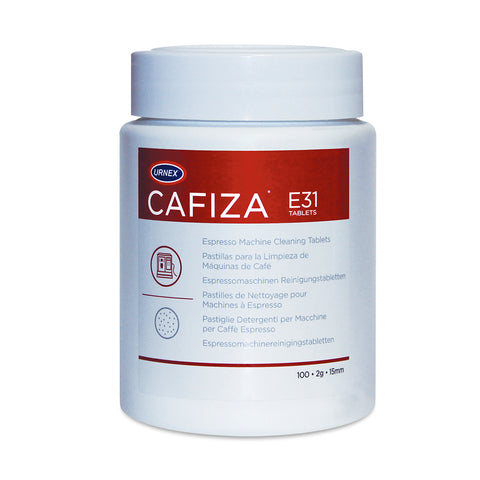 Urnex CAFIZA® E31 15mm 2g Cleaning Tablets Cleaner Coffee Espresso Machine Organic Tub
Urnex Cafiza Espresso Machine Cleaning Tablets 2g - 15mm
A premium product designed for usage in a wide range of machines
With over four generations of experience, Urnex is the world leader in specialty cleaning products for coffee and espresso equipment
Cafiza® Espresso Machine Cleaning Tablets have a concentrated formula which eliminates residue in group heads, valves, and lines
The tablet form allows for easy and controlled dosing into delivery chamber or group head
The tablets offer flexibility with traditional espresso machines and can be used to perform backflush cleaning

This product has been designed to be used with equipment from the following brands:
Delonghi / Jura / Saeco / Breville / Gaggia / Bosch / Krups / Miele / Sunbeam / Rancilio / Nespresso / Lavazza / Caffitaly / Map / Rocket / Expressi / La Marzocco / Simonelli / Dalla Corte / Wega / La Cimbali / Faema / Elektra / ECM / Expobar / Brasilia / Astoria / Azkoyen / Grimac / Fiorenzato / Vibiemme / Diamond Italia / Futurmat / Magister / Diadema and many more




For Use on Automatic Espresso Machines
Insert one Cafiza® tablet in machine opening and follow manufacturer's maintenance and cleaning instructions. Intended for daily use.




Soak:
Insert blind filter in portafilter and add 1 Cafiza® tablet. Insert portafilter into group head.

Activate brew cycle for 10 seconds. Stop 10 seconds. Repeat 5 times.

Remove portafilter. Activate brew cycle and rinse portafilter in stream of water from group head. Stop cycle.

Insert portafilter into group head. Repeat step (2) without Cafiza® tablet 5 times.

Make and discard a cup of espresso to ensure no residue remains.