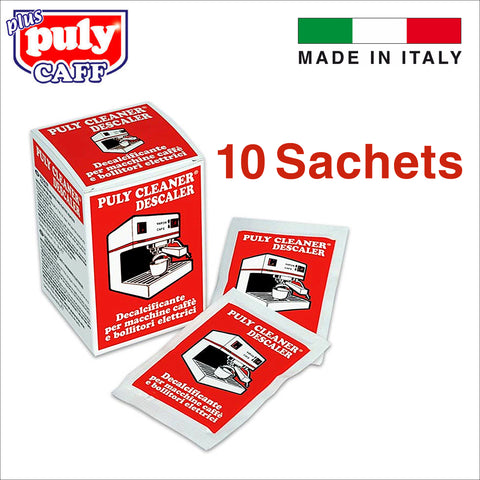 Puly Caff Professional Cleaner Descaler Coffee Espresso Machine / Maker PUL2610
30g Sachet Puly Professional Cleaner Descaler for Coffee Espresso Machines / Makers PUL2610
Removes scaled residuals from electric espresso machines, heat exchangers and scaled parts
Ideal for the maintenance of espresso coffee machines and heat exchangers
Periodic use of this product helps prolong the life of your machine
Will not corrode metal parts or rubber seals
30 gram packet/sachet
Manufactured in Italy


If you are the proud owner of a domestic espresso machine then there's no doubt you will want to help keep it in good shape and free from faults. The most common issues with domestic espresso machines is the build up of limescale deposits which eventually culminate in partial and total blockages of your machines internal components and cause breakdown.

Over time the calcium in the water takes it's toll leaving behind a hard and restrictive residue which most people term as 'scale'. Even in so called soft water areas calcium is added to the water supply in order to help the growth and maintenance of healthy teeth and bones, which is great for your health but not for your coffee machine !

Puly Descaler is the most effective and fastest dissolving regular use coffee machine descaler solution available on the market today, it is reccomended that you use one sachet a month to descaler, followed by a flushing of a whole tank of water.

Coffee makers that typically benefit well from this descaler solution are those made by Gaggia, Keurig,Tassimo, Siemens, Delonghi, Francis Francis, CaffItaly, Morphy Richards,Lavazza, Cuisinart, Kitchenaid, Bosch, Prestige, Dualit, Baumatic, Neff, Whirlpool, Bodum, Magimix, Nesso and Krups

Note well it is a highly questionable suggestion that you are able to descale a coffee maker effectively with vinegar. Thinking logically formations of scale are often as hard as stones, so the question must be asked when last did you see the power of vinegar dissolve a stone? Also bear in mind that you are likely to be left with a very interesting aroma and taste when making your next coffee should you decide to take that route.
Switch on your coffee maker and allow it to heat up.
Dissolve the contents of the Puly sachet in 1 Litre of water, then pour it into the machines water tank.
Run the pump as if making a coffee until all of the solution has run through the maker, then refill the water tank and run normal water through to flush the remainder of the descaler out.