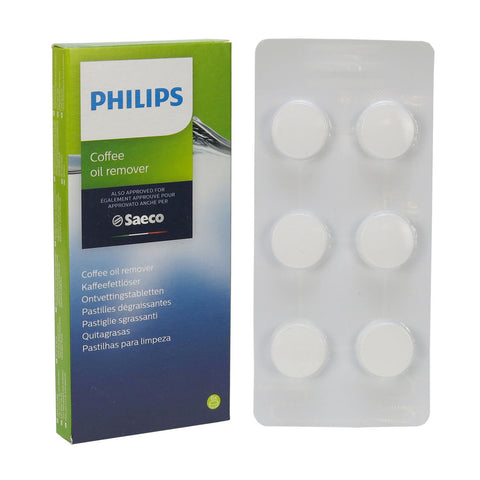 Genuine Philips Saeco Coffee Machine Oil Remover CA6704/99 - 6pcs
Keeps the brewing unit in your Saeco clean
The Saeco Coffee Oil Remover Tablets remove coffee oil and grease perfectly inside the brewing unit of your Espresso machines.


Effective protection of your espresso appliance
Protects Espresso Machines against coffee residue clogging
Prolong lifetime
Regular cleaning prolongs the life of your Espresso Machine
Sensational coffee quality
Maintains the coffee taste over time
Highlights
Coffee Oil Remover
The Saeco Coffee Oil Remover Tablets remove all coffee oil residues, while keeping your espresso machine working efficiently for best results.

Longer machine life
Extend the life of your Espresso Machine to enjoy the maximum potential of your appliance. To ensure a perfect performance overtime, clean your appliance every month or after 500 cups of coffee.

Better taste and aroma
Regular maintenance ensures the best taste and aroma from your Saeco espresso machine.
very happy with the experience