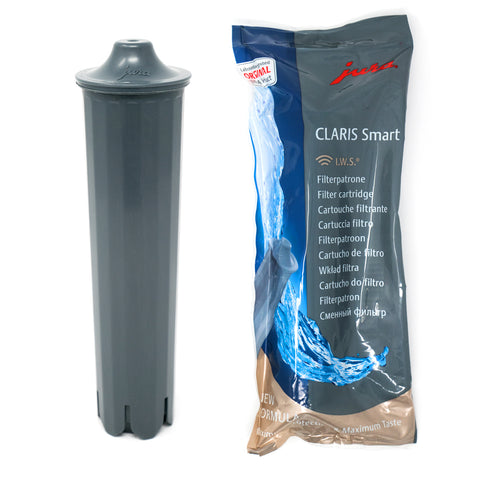 Genuine Original Jura Claris Smart Coffee Water Filter Cartridge
FEATURES
Automatic filter detetction.

Removes the need for descaling.

Constantly fresh water means oerfect flavour.

Water filtered at the source.

Filter capacity: up to 50 litres of water or max 2 months.


The intelligent water filter


Suitable for all types of mains water
CLARIS Smart works according to the professional up-flow principle and always filters exactly the amount of water required for each preparation. Thanks to the pioneering formula, the filter cartridges are ideally suited to mains water anywhere in the world. The modified granule always filters limescale to an optimum level (even when the water hardness is low) and reduces the level of all harmful substances more efficiently than ever before. Minerals and fluorides that are important for helping flavours to develop are fully retained in the water. The optimum stabilisation of limescale and efficient filtering of harmful substances always results in optimum water quality for a perfect coffee flavour.


Automatic filter detection
To enable the filter and coffee machine to communicate, JURA uses modern RFID technology. Any machine fitted with the intelligent water system (I.W.S.®) recognises when a filter is inserted, automatically switches to filter mode and starts the rinsing process. When the filter capacity is nearly used up the machine prompts the user to change the filter. If the filter is not changed, the machine activates descaling mode. After a certain amount of use, the user is prompted to descale the machine. This can only be done when the filter is removed, so there is no more risk of user error resulting from misunderstandings.

* CLARIS Smart was designed for the following machines with the intelligent water system (I.W.S.®):
Z8

Z6

J6

E8

E80

E800

E6

E60

E600
Genuine Jura. A must to keep your Jura happy.
The product is excellent.
It's the factory water filter for the Jura coffee machine. Nothing more
I had previously bought "generic" filters, but they did not seem to fit properly, I now only buy original filters
Fits my Jura E6. Makes a great cup of coffee!