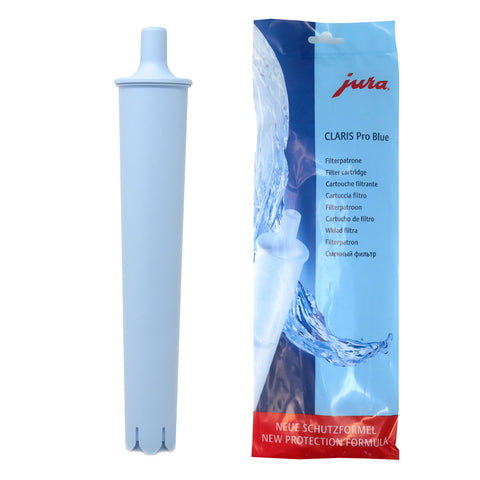 Genuine Original Jura Claris PRO Blue Coffee Water Filter Cartridge Clearyl - 71702
FEATURES
Coffee contains 98% water. The better the quality of the water, the purer and less adulterated the aroma. CLARIS reliably filters the water to leave the optimum ingredient for perfect coffee: pure water for pure enjoyment.
The new protective formula was developed especially with modern automatic machines with a One-Touch Cappuccino function in mind. It contains a mineral which stabilises the calcium carbonate. This isn't then deposited in the fluid system, even with frequent steam preparation, actively preventing the pipes from becoming blocked.
But CLARIS can offer even more: as well as preventing scale, it also filters many other substances detrimental to flavour and aroma out of the water. But the minerals and fluorides that are important for health are retained.
The Jura Claris Pro Blue Filter is only suitable for a select number Jura bean to cup machines:
- Jura GIGA X3 Water Filter
- Jura GIGA X7 Water Filter
- Jura GIGA X8 Water Filter
- Jura GIGA X9 Water Filter
-Jura Impressa XJ5 Water Filter
-Jura Impressa XJ9 Water Filter
Work well - happy with the product.
As described...just what we needed
These are exactly the same as the original cartridges. The boss man (hubby) is pleased!
perfect just what I needed for my jura
It's a water filter. Not much to say about it. I think they're expensive, but it helps to maintain my Jura and the delicious coffee it makes.