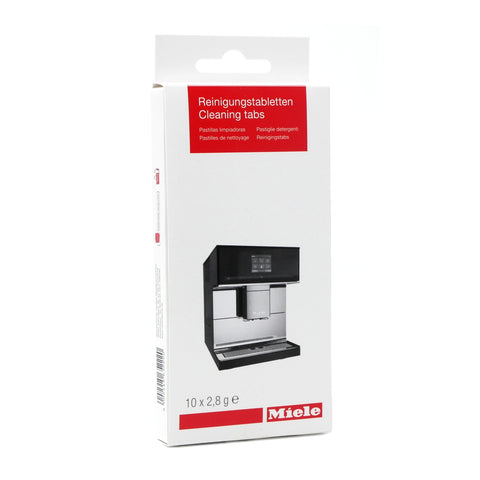 Genuine OEM Original Miele Coffee Espresso Machine Cleaning Tablets 10270530 - 10 Tabs
1 x Miele Cleaning Tablets - 10 Tablets
(10 Tablets)
Keep your Miele coffee system in peak performance with these cleaning tablets from Miele
Thorough removal of coffee oils and coffee residue
Highly effective cleaning, which also treats materials gently
Fine-tuned special Miele formula

Miele coffee / espresso machines need to be cleaned after every 200 coffees. The capsule plate will get dirty sooner or later, depending on the fat content of the coffee used. Make sure to clean the capsule plate once a month with the supplied cleaning tablets, but no later than when the Miele coffee machine needs to be descaled.

Miele CVA 3660 / 5060 / 5065 / 4060 / 4085 / 10270530 / 7616440
Very much what I wanted. Less expensive than the local shop. Delivery as expected. Absolutely will use again for future needs.
I've been using these tablet for my Miele Coffee system for four years. The tablets do the job as advertised.
Good product and shipped timely.
Easy to order and were as good as the ones I buy at my local store.