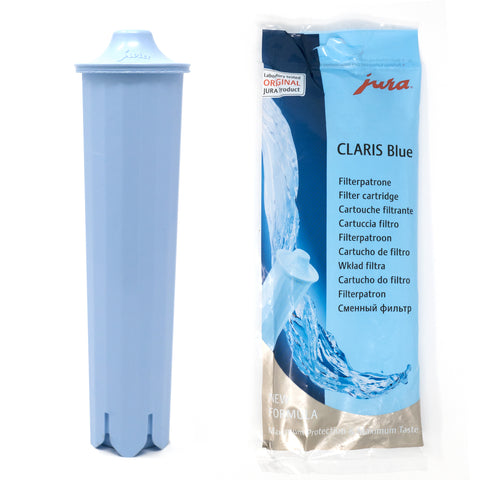 Genuine Original Jura Claris Blue Coffee Water Filter
FEATURES
Genuine Original Jura Claris Blue Water Filter

Improves taste and aroma by removing impurities from your water.

Reduces limescale, protecting your appliance from limescale build up.

Improved New Formula for Maximum Protection & Maximum Taste
REPLACES

ENA 1

ENA 3

ENA 5

ENA 7

ENA 9

Impressa F7

Impressa F50

Impressa F90

J5

J9.2

J9.3

C9

One Touch

Giga 5

Z5

Z7

Z9

ENA Blossom White

ENA Coffee Cherry Red

ENA Coffee Piano Black

ENA micro 1

ENA micro 5

ENA micro 9
This filter works well on our Jura coffee maker. If you use the filter you don't have to do the de-scaling function.
Good product and good price. Just right for my Jura
I have a Jura automatic espresso machine, which needs cleaning periodically. This is the product the manufacturer recommends.
Keeps our Jura performing perfectly, great coffee every time!!